Patients' letters
Julia B. 
20 years ago my problems started after having my family. My ankles were disproportionate to the rest of my body and I felt ashamed and very low. I hid this as much as possible. I found my doctors unsupportive and I felt I had not had the chance to enjoy my life.
A few months back I felt the urge to try again and found Wellness Travels. Through excellent support and communication I booked my treatment.
My real journey to what I feel is my new life was walking through the doors to the clinic. I was greeted with warm, genuine smiles from all the staff. My apprehension dissolved in seconds. Dr Norkus came to greet me but instead of the negative treatment I had received in England he was a breath of fresh air. I knew this had been one of the most significant decisions I had made and my life was going to change whilst in his care.
Dr Norkus put me at ease straight away. I knew he had my best interests at heart and I agreed to the treatment without any worries. It was all carried out with ease as the team had such care and attention to my needs but also they really wanted to make me happy. I didn't feel I was in a medical setting I felt cocooned in care.
My after care was as wonderful. I had 24/7 contact to the clinic and in England you would not be given the surgeons direct number but Dr Norkus made sure I had this to hand. Amazing.
I'm back home in England and I can see results although not the final for some time. However in addition to the change in the shape of my legs Dr Norkus and his team have given me something else. It's confidence. I didn't realise how sad I had really felt all those years. My mind sees things in a different light now. Challenges don't worry me. In fact I feel quite free in my self.
I would hope that people seek out Dr Norkus and receive the same freedom in their life as I have. I would also help the clinic as much as possible by spreading the word and the joy you have given me.
There really aren't enough ways to express my internal gratitude for everything you did for me.
D.G., UK
(writing 20 days after the surgery)
I am very good today; every day is a little better. The scar is healing very well, starting to itch now though. I have Dermatix gel to apply from the next week.
I went to my own Doctor yesterday so he can put a note on my medical records of the procedures (abdominoplasty) I have had done. Also I shared my impression of anaesthesia, which had been performed really professionally and I had not felt any sickness or negative body reactions after it.
My doctor was very impressed with your work; he said it was a very good, neat job. The best he had ever seen actually. I am so happy with the results so far.
I am still wearing the corset and the steri strips until the next Wednesday (that will be 4 weeks). I will then send you some pictures.
Take care and thank you once again.
Mrs. D.G. will gladly share her experience with you. Contact our administrator (info@plasticsurgery.lt) to get contacts.
E.C., USA
I feel and look 10 years younger, thanks to dr. M. Norkus.
G.: "I am writing to express my joy and to pass best wishes from my mother:) Every day she looks nicer and nicer."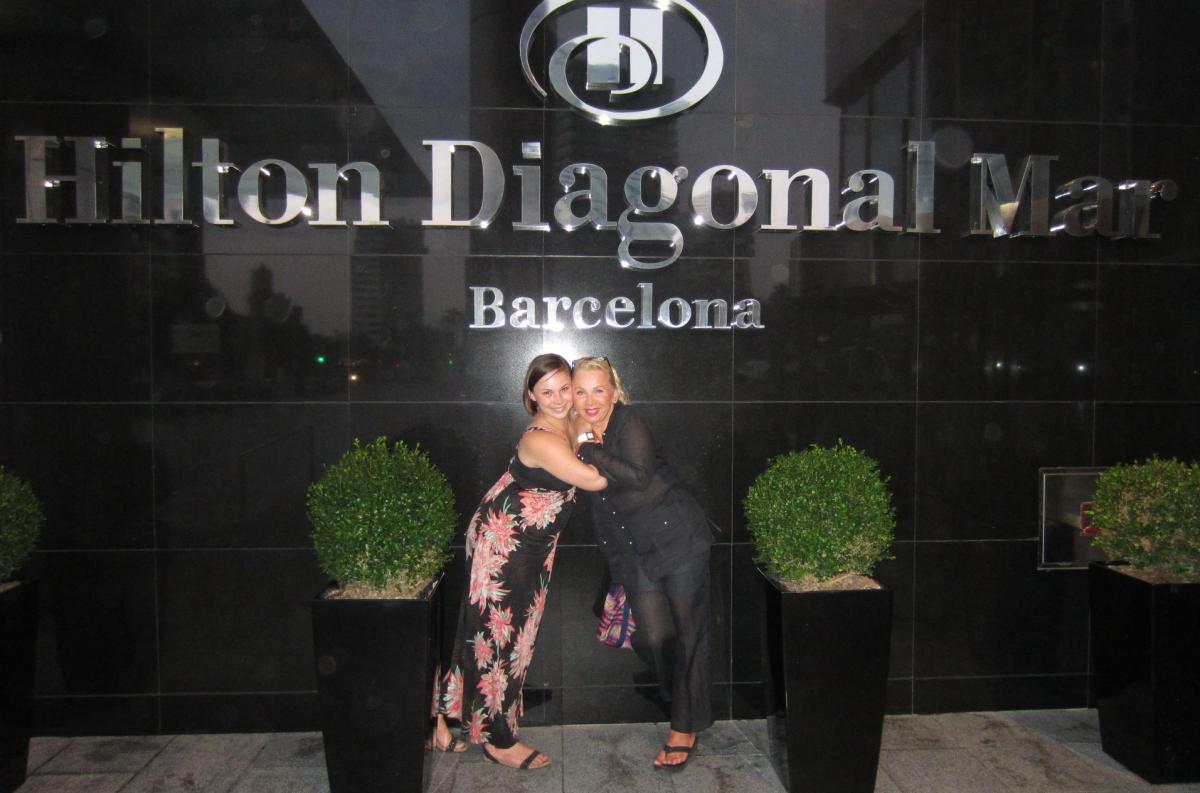 A. A., Steamboat Springs, Colorado, USA
About The Aesthetic Surgery Center I found out through my brother, who works a lot with plastic surgeons and doctors in Lithuania. I always was in perfect shape before I had my two children. I used to work out and dance. After second pregnancy I wasn't able to get back into shape I was before. I worked out very hard at the gym five days a week, but wasn't able to reach the result I wanted. I had loose skin in my abdominal area. I went to see couple of plastic surgeons here in the USA. They all said to me that I will need to have abdominoplasty surgery called "tummy tuck" done. I was very scared to go through this and to end up having big scar in my bikini area. Plus it was a lot of money to get it done here in the USA.
My brother gave me the web site of The Aesthetic Surgery Center. I got in touch with Dr. Martynas Norkus through the e-mail. I send pictures to him and asked if it would be possible to get the tummy tuck done while I'm in Lithuania for couple weeks. He explained the procedure and recovery after surgery. I understood that I will be able to go back to USA in couple weeks. I knew it is going to be not very easy visit in Lithuania for me, because of recovery after surgery. But I wanted surgery very much.
I've met Dr. Martynas Norkus for consultation the first day I came to Lithuania. I was very impressed with his knowledge and professionalism. I felt pretty safe. I was in the surgery the next day. I was very happy with staff and results. Everything happened the way Dr. Martynas Norkus explained to me. I was able to recover and go back to USA by myself with two small children after two weeks. I was at the gym working out after 6 weeks after my surgery. I am so happy that I did it. Now I can wear bikini again when I go swimming with my kids.
H. G. G., Finland
The clinic (Estetines chirurgijos centras) is neat and modern place. The staff was friendly and I felt welcome right away. Paying process was easy, nurses were super helpful and heartfelt with every care they gave me. I was happy to have both surgeons dr. Martynas Norkus and dr. Domantas Stundys to look at my lips and operate them. Both doctors are so good! They were very friendly, warm and professional. They are interested in patient's beauty goals and know how to get there. I felt very safe with them and also appreciated as a patient. I have met about ten plastic surgeons during my life, and I can tell that dr. Norkus and dr. Stundys are top class. Their interest in my case, deep entering into doing me a good lips and concentration impressed me. Many surgeons I have met are much less interested in a patient and are not in the map what their patient is even wanting. Now I knew exactly I was with the right doctors. =) dr. Norkus even spoke me some of my home language and it was so funny. =) (He was good at it).
Full story of this patient you may read here.
MY LIFE HAS CHANGED THANKS TO HAVING A TUMMY TUCK AND LIPO IN KAUNAS LITHUANIA AT ESTETINES CHIRURGIJOS CENTRAS ….Amanda, Dublin, Ireland
THERE DOCTOR M NORKUS DONE A WONDERFUL JOB AND NOW I FEEL GREAT ABOUT MYSELF, ALL THE STAFF THERE ARE WONDERFUL AND THE CLINIC IS BEAUTIFUL . THE REASON I CHOSE THIS CLINIC WAS NOT JUST BECAUSE WHEN I MAILED THE DOCTOR WITH QUESTIONS DID HE ANSWERED MORE OR LESS STRAIGHT AWAY, WHICH I LIKED BUT HE'S REALLY GREAT IN ANSWERING ALL THE QUESTIONS IN A WAY YOU CAN UNDERSTAND. THE PRICE WAS SO GOOD AND LIKE MANY PEOPLE I WASN'T HAPPY WITH HOW I LOOKED, AFTER HAVING 3 CHILDREN AND HAVING WEIGHT UP AND DOWN ALL MY LIFE THEN FINALLY LOST THE WEIGHT AND WAS LEFT WITH A LARGE HANG OF SKIN .
I FELTED I WASN'T NICE AND HAD BEEN THINKING OF HAVING A TUMMY TUCK TO LOOK AND FEEL NICE AGAIN SO I COULD ENJOY LIFE .JUST ONE LARGE THING STOPPING ME,THE PRICE. I DIDN'T HAVE THE MONEY THEY WANTED IN IRELAND FOR THE TUMMY TUCK .
I SIMPLY EMAILED PHOTOS OF THE AREA I WASN'T HAPPY WITH AND THE DOCTOR GOT BACK TO ME TELLING ME THAT HE COULD HELP AND HOW AND WHAT HE COULD DO ,HE ALSO GAVE ME THE PRICE ,THEN I GOT MY DATE FOR MY BIG DAY. ON THE DAY I MET THE DOCTOR WE TALKED ABOUT ALL MY FEARS AND TALKED ABOUT EVERYTHING ,WHEN I LEFT HIS OFFICE I KNEW I COULD TRUST HIM AND HIS STAFF ,ALL MY FEARS AND WORRIES LEFT.
EARLY NEXT MORNING I WAS IN THE CLINIC TO GET READY FOR MY OPP . THE STAFF MADE ME FEEL REALLY RELAXED. WHEN I WOKE UP AFTER I HAD NO PAIN AT ALL JUST FELT LIKE I WAS AFTER DOING A WORK OUT AT THE GYM.
I STAYED AT THE CLINIC FOR ONE NIGHT ,MY DRAINS STAYED IN FOR 4 DAYS AND WHEN THEY CAME OUT I COULD ALMOST STAND UP STRAIGHT AGAIN. I REALLY HAD NO PAIN AT ALL . 2 DAYS ATFER MY TUMMY TUCK I PUT A DRESS ON AND I CRIED ,IT WAS SO WONDERFUL TO LOOK SO GREAT IN THE DRESS AND KNOW THAT I WAS STILL VERY SWOLLEN AND STILL LOOKING GOOD .I FELT NICE AGAIN AND I LIKED LOOKING IN THE MIRROR AGAIN.
AT THIS CLINIC THEY DO A GREAT JOB THEY DO THEIR JOB BUT THEY GO THAT EXTRA MILE IN YOUR CARE. ON THE DAY I MET THE DOCTOR I WAS WORRIED UNTIL WE SPOKE AND WE TALKED ABOUT EVERYTHING MY FEARS AND SO ON . WHEN I LEFT DOCTOR NORKUS OFFICE I KNEW I COULD TRUST HIM AND HIS STAFF MY FEARS LEFT AND THE NEXT DAY I HAD MY NEW TUMMY . I WAS IN A SIZE 14 NOW IM IN A SIZE 10 -12 AND A STONE /6KGS LIGHTER. I AM SO HAPPY WITH MY BODY NOW AND MY LIFE HAS CHANGED SO MUCH FOR THE BETTER.
THE DOCTOR IS MY HERO FOR WHAT HE DONE FOR ME THANK YOU DOCTOR M NORKUS AND ALL YOUR STAFF FOR SUCH WONDERFUL RESULTS.
Lesley Osterbergs, UK
I can honestly say. You will not get better care or results, so why pay rip off Britain prices when you can nip over the water in a couple of hours and save yourself £1000`s of pounds. I paid £3,500 for breast implants and a tummy tuck, collagen and botox. (BEAT THAT!!)
I was up and about in days, some discomfort but not too much pain. After 2 weeks I felt pretty ok to do light house work and look after the children although still a bit tired and after 5 weeks I was back up the gym doing my YOGA.
I'm back to a size 10 with 34D breasts and a totally flat tummy that I haven't had since I was 18. My husband loves it and I look fantastic in all my new clothes.
You won't regret anything you have done. I was very tearful for the first couple weeks and it does effect your emotions but now. Wow. I'm so glad I took the plunge and I've been so lucky to find such a wonderful place to have the surgery done and for that price. It's amazing!!
If you would like I could help you with trip arrangement.
Initial contact is through me, Lesley Osterberg, to discuss all your needs. You will need to send me photos which will then be discussed with the head surgeon so that we can get you a quote, outline of treatment, length of stay needed in Lithuania and estimated recovery time. You will need to fill out a medical form and a form of consent and liability at some point before surgery as you would with any surgery. We will then arrange a date, flight and accommodation, length of stay etc. Then once this is all finalised a fee of £200 is payable to me.(introductory fee) to confirm the booking and cost. Surgeon's fees can be paid through international transfer through me, half before you go and half after surgery or all of the fees can be paid with cash on arrival. It honestly could not be simpler.
You can hire me for a surgery buddy for £100 per day plus expenses if you do not want to go on your own. For this I will take care of every little thing and look after you for the duration of your stay. You can take a friend or family member for company or you can all have procedures during your stay. This works very well. (I took my daughter with me for company and we had a great time.)
So good luck and hope you join me, my family and friends in this life changing experience. Lesley Osterberg
More information
R.P., London
From the moment Dr. Martynas met me at Vilnius Airport he looked after me and put me at ease, taking care of all necessary arrangements. Prior to abdominoplasty surgery I had the necessary blood tests and consultation with Dr. Tarvilas Norkus, Dr. Martynas and the anesthesiologist, where the procedures were discussed and all my questions answered. I was very impressed by the private clinic used (for consultation, surgery and recuperation) – it is very modern and clean, the facilities are excellent, and all the staff is very professional as well as friendly. The operating theatre has top equipment and medical implements are sterilized and seated for surgery.
The surgery itself ran according to plan without problem. Likewise, the healing process is going very well, with dressings changed for me when appropriate and the initial results are very promising. The whole trip in fact has run without a hitch and I have enjoyed the experience very much. Kaunas is a very pleasant city, and the hotel I stayed in was excellent. I could endorse such a trip to anyone – Dr. Tarvilas and Dr. Martynas are highly competent surgeons, the medical care is as good as anywhere, and prices are very reasonable. Thank you!

G.N., Trondheim, Norway
I ran into Dr. Norkus' clinic while looking for a suitable place to do blepharoplasty and removal of some wrinkles with Dysport®. After sending pictures to different clinics and discussing possible treatments, I ended up with choosing Dr. Norkus' clinic. The main reason for this was a specific feeling that they not only were interested in doing whatever you asked for but also a clear wish to do a really professional evaluation on what would be the best for me.
This feeling was only confirmed from the moment I arrived at the airport in Vilnius and was received by Dr. Martynas who took me to my hotel in Kaunas (from Oslo it is also possible to fly directly to Kaunas). In fact I was very positively surprised by the whole process; consultations, the very modern clinic, the surgeons and the rest of the staff which are highly professional and very service-minded, including the follow-up after I returned back home.
Everything went very smoothly and I'm very satisfied with the result. My stay in Kaunas was very pleasant; the hotel was of very good standard and the two surgeons (Tarvilas and Martynas Norkus) have extensive experience also from Germany and USA and possess top competence within cosmetic surgery, so I can really recommend a visit to their clinic in case you are in evaluation of cosmetic surgery. The quality is excellent, facilities top modern and the prices are reasonable compared to Norway and Western Europe.
Thanks a lot for great service and excellent treatment!